How Subaru Symmetrical All-Wheel Drive is Different
Many all-wheel drive systems found on other vehicles don't start as all-wheel drive. These systems are adapted from 2-wheel drive to be all-wheel drive. Each Subaru model, unlike most other vehicles in its class, starts out as all-wheel drive. This allows us to build a system for holding the road unlike any other offered. Power is fed directly from the engine, through the transmission, then to the driveshaft and then delivered to each wheel in the most direct route possible. The result is constant traction for continual confidence.

Subaru Symmetrical AWD vs. Front-Wheel Drive-based AWD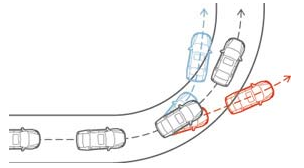 All-wheel drive systems adapted from front-wheel drive typically feature a transverse-mounted engine. This engine configuration requires additional drivetrain components to transfer power through several 90-degree turns in order to get it to the rear wheels. This increases weight, reduces efficiency and makes creating a symmetrical layout virtually impossible. Also, these systems are often 2-wheel drive under most conditions -- the rear wheels only engaging when the system detects wheelspin. By then, you've already sacrificed some control.


Subaru Symmetrical AWD vs. Rear-Wheel Drive-based AWD

Some all-wheel drive systems start with a rear-wheel drive platform that is adapted to be AWD. This system requires power to be sent to a differential with an additional driveshaft that directs power to the front wheels. This additional driveshaft reroutes power, changing its direction so it can be sent to the front wheels. This extra routing sacrifices efficiency, and the extra componentry creates a drivetrain layout that is not symmetrical and balanced. Often in such systems, most or all of the power is routed to the rear wheels. When slippage is detected, the front wheels are engaged, and by the time power is rerouted, further slippage has already occurred.


Subaru Symmetrical AWD vs. Front-Wheel Drive
A front-wheel drive system leaves the rear wheels without any power, so they can't help you regain traction if you encounter slippage. Also, if traction becomes loose when you enter a corner, centrifugal forces that act on your vehicle during a maneuver can cause the front to drift to the outside. This effect -- understeer -- disrupts your ability to steer and track confidently through a corner.

Subaru Symmetrical AWD vs. Rear-Wheel Drive
It's much easier for your vehicle to break traction if only two tires are required to handle all the engine's power. And if slippage occurs when only your rear wheels are engaged, your control is greatly compromised. The rear wheels can move sideways, out of alignment with the rest of the vehicle. You'll feel an unsettling loss of control, and possibly experience oversteer in a corner. In a worst-case scenario, a highly dangerous spinout may result if the rear wheels don't regain traction.