The 2021 Subaru Love Promise Customer Commitment Award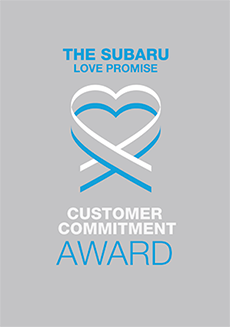 We've been nationally recognized for our dedication to our customers and the Subaru Love Promise.
We're honored to receive the 2021 Subaru Love Promise Customer Commitment Award. This award nationally recognizes Subaru retailers who demonstrate excellence in all areas of customer-focused performance. It highlights exceptional customer service that builds lifelong relationships with Subaru owners.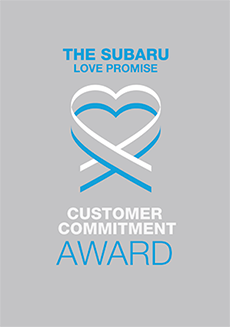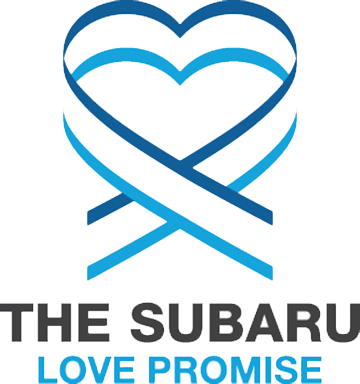 What is the Subaru Love Promise?
Subaru and our retailers believe in making the world a better place and the Subaru Love Promise is our vision of respecting all people. This is our commitment to show love and respect to our customers and to work to make a positive impact in the world.
How is Grand Junction Subaru dedicated locally to the Love Promise?
The heart of this organization is that it is run and employed by people who want to give back to the community in which they live. Ron Bubar - Owner, Grand Junction Subaru
Roice Hurst Humane Society
Mesa Land Trust, Colorado Cayons Association
Riverside Educational Center
American Red Cross, Museum of Western Colorado, Colorado Discoverability
Community Hospital, St. Mary's Hospital, Muscular Dystrophy
Love Promise Stories from Grand Junction Subaru
Subaru and Grand Junction Subaru believe in making a positive impact on the communities in which we live and work. We uphold that belief through our Love Promise Community Commitment. Every month, we select inspiring stories from customers and partners from around our area who strive to support our collective commitment and feature them here
Meeting with Rotary - Amanda d
A few weeks ago Gray Gourmet Meals on Wheels was invited to attend a meeting with our local chapter of Rotary. We're trying to get a 5 new routes started within the next 3 months. Because of this plan, we'll need 25 new volunteers and Rotary wanted to help us get the word out. Our staff member Adrienne took our new Subaru over to the meeting and showed it off to the Rotary members. They were so impressed with it! It has been a valuable tool in getting new people to join our ranks!
---
"I didn't have to be hungry anymore" - Amanda d
Not that long ago I had to be a last minute substitute driver on one of Gray Gourmet Meals on Wheels home delivery routes. Because I'm not used to this particular route, it took me longer than the usual driver to make all of my deliveries. As I was pulling up into the very last drive way, the client came out to meet us. He said that he was getting worried because normally his meal would have already arrived by now. I explained who I was and that I was just filling in, and that I'm a little bit slow. He said, "It's ok, as soon as I saw that car I knew I didn't have to be hungry anymore!". He went on to explain that if Gray Gourmet Meals on Wheels doesn't deliver to him every day, he doesn't eat. For the most part, we're the only food he has since he lost his ability to drive a few years ago. He's too frail to be able to stand and cook even a can of soup on his own. Our ability to deliver meals no matter the weather or what's going on has increased exponentially since receiving the Outback from Subaru. We are grateful for it, as well as our clients! *The picture is of a different client to protect his privacy.
---
Helping our seniors with Pets - Amanda d
On January 27, 2018 over 15 students from Fruita Monument High School met at St. Mary's Hospital helicopter hanger to collect and distribute over 100 pounds of pet food using the vehicle that was donated to Gray Gourmet Meals on Wheels from Subauru. As we all know, pets are like members of our families, and too many seniors have to decide between feeding themselves or feeding their pet. By partnering with local agencies and the school, we are able to help.
---
Dual Immersion Academy Loves Subaru and Reading! - Monica H
The Dual Immersion Academy is a unique D51 school, where all our students are learning two languages and come from diverse cultures. Our students love reading, and of course, science. So when we received the beautiful collection of award-winning science books from Subaru for the second time, our students and staff were so excited! The books have become part of our classroom libraries, our bookroom and in addition, we will be able to give some of the books away to our students as recognition for showing PURR behavior! This will encourage their interest in reading and science. It is a great partnership and we appreciate Subaru's focus on education, knowing that our students are the future! Muchas gracias, Subaru! You are a true community partner and our students and staff thank you!
---
Humane Society - Mary S
For years Grand Junction Subaru has donated pet food to Roice-Hurst Humane Society. Further, on a daily basis, Grand Junction Subaru displays pictures of abandoned pets on our electronic dealership sign to encourage adoption. Finally, we advertise to the community that Grand Junction Subaru is a pet food collection site for donations. dealership
---