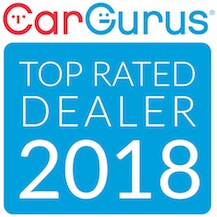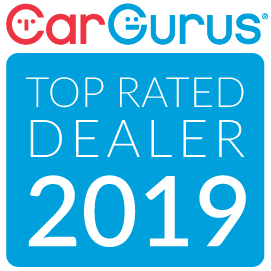 Top Rated Dealer, 2018-2019
The popular dealership review site CarGurus named Grand Junction Subaru one of its top-rated dealers consistently for the past couple of years. Based on the reviews from customers, this status celebrates the achievements of a few dealerships throughout the country. Each dealership that attains this award earns an average rating of 4.5/5 stars or higher in surveys sent by CarGurus. We're quite proud of this achievement, and we want to keep paying it forward by offering excellent service and high customer satisfaction every day.
Customer and Community Commitment Award
Those select few Subaru dealerships who meet the highest standards set by the brand can receive the Subaru Love Promise Customer and Community Commitment Award in the Gold category. The Subaru Love Promise extends through every Subaru dealership, ensuring each Subaru retailer gives back to their community in a variety of ways. Our community service projects and those we contribute to or sponsor are well known throughout the Grand Junction, CO, and brought our dealership to Subaru USA's attention. A gold rating in customer and community commitment is one of the highest honors that the brand bestows on its retailers.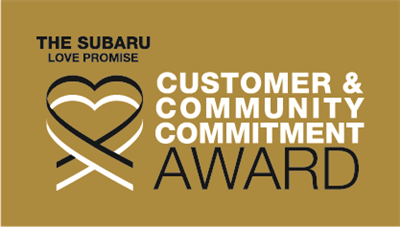 2017/2018 Customer Satisfaction Award
DealerRater is another automotive store review group that provides helpful information to consumers about what car dealerships are best for their needs. The Consumer Satisfaction Award, as the name suggests, is given to a select few dealerships in the community that produce the highest number of happy guests as they drive off in their next car. As you read our reviews, you will learn how we managed to achieve this award consistently.
2015 Consumer Satisfaction Award from DealerRater
Grand Junction Subaru has been around for a while now, so you will notice how many of our awards extend a few years back. We have received consistently positive feedback from dealership review sites like DealerRater. We think of this publication as similar to apps like "Yelp" that help you find the best restaurants. Customers often follow the reviews of fellow consumers, and DealerRater helps keep a finger on the pulse of consumer feedback. Those few who achieve the highest numbers of satisfied customers reach year to receive the prestigious Consumer Satisfaction Award.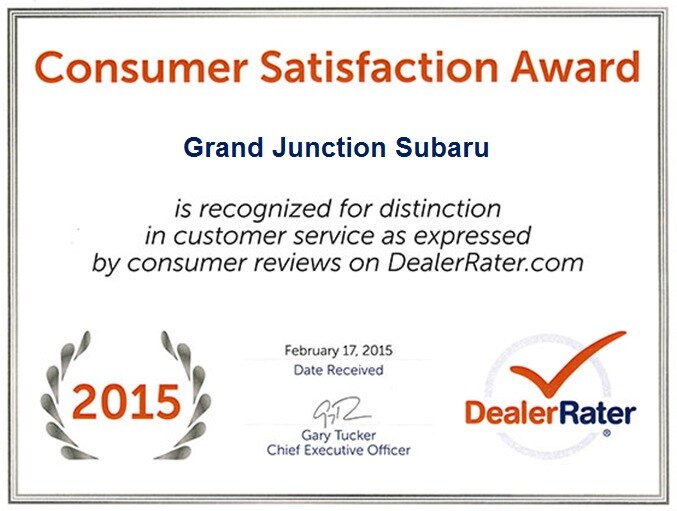 2015 Kelley Blue Book® Best Resale Value Awards
If you ever bought or sold a car before, you are likely familiar with the consumer guide Kelley Blue Book® or KBB®. Aside from providing you fair market value for your trade, KBB® reviews automotive brands and cars to determine the best buys in terms of fuel economy, price, and resale value, among other important qualities. KBB gives the Resale Value Award to brands that offer the best return on their used cars. Up to 97 percent of Subaru vehicles released ten years ago are still fully functional, so it's no surprise whenever the brand wins this KBB® award.
A KBB® best buy in resale value will provide you many great years of driving and will produce the biggest return on your investment when you sell or trade the car.
Best Resale Value Brand Award: Subaru
The Subaru brand once again received high praise by Kelley Blue Book® in the form of the 2020 Best Resale Value Award. This prestigious status is given to one brand by KBB® each year to demonstrate the brand of cars that produce the best trade returns and overall longevity. As Subaru brands are known for their resilience, it's not surprising that they won this KBB® award recently. New Subaru brands only seek to enhance this reputation, with improvements made in engineering and safety technology year after year. To read more, click here.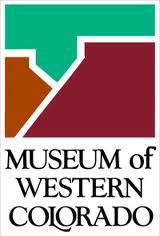 2014 Heritage Award Winner
   Grand Junction Subaru
2014 Heritage Award Winner
Do you tend to stay up-to-date with the local history of Grand Junction? We do, too, and our community outreach programs at Grand Junction Subaru help preserve and protect the culture and heritage of our fair town. We even achieved recognition for this a few years ago when we received the 2014 Heritage Award by the Museum of Western Colorado. The museum chooses recipients of this award based on how well they tell our town's story and how they preserve our local heritage. We sponsor and donate to a variety of charities that work to preserve our heritage, including Grand Junction High School, Hospice and Palliative Care, Grand Junction Lions Club, and Powderhorn Racing Club.