Dedicated senior drives away in new Subaru
By
Richie Ann Ashcraft, The Daily Sentinel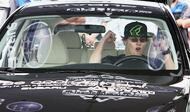 Usually having perfect or near-perfect high school attendance is only worth personal pride in
the achievement.
But, to Dusty Copeland, it was worth about $19,000 Thursday.
Copeland won the grand prize, a 2010 Subaru Impreza, from Grand Junction Subaru's
program "Be Cool. Stay in School."
The dealership put the names of 27 seniors from School District 51 into a drawing Thursday afternoon. Five names were picked from that pool, and each received a key.
Only one key started the car, and it belonged to an overjoyed Copeland, the lone senior at Gateway High School this year.
This is the third year that Ron Bubar, owner of the dealership, has offered a new car, which he purchases himself, in an effort to keep seniors focused and in class.
The mission of "Be Cool. Stay in School" is to promote excellence in higher education and give a large incentive for kids to attend high school through to the end.
To qualify, students had to have 98 percent attendance for their entire senior year.
Shawn Harrison, general sales manager at the dealership, commends all of the students in District 51 who had the willpower to attend through the end.
"As far as we're concerned, every kid here today has already won," he said.
Alyssa Workman-Keenan, a senior at Central High School, said she thinks the program is just cool, and she was excited to see someone win, even though it wasn't her.
"There's not many kids who are eligible to get it. They all worked really hard," Workman-Keenan said.