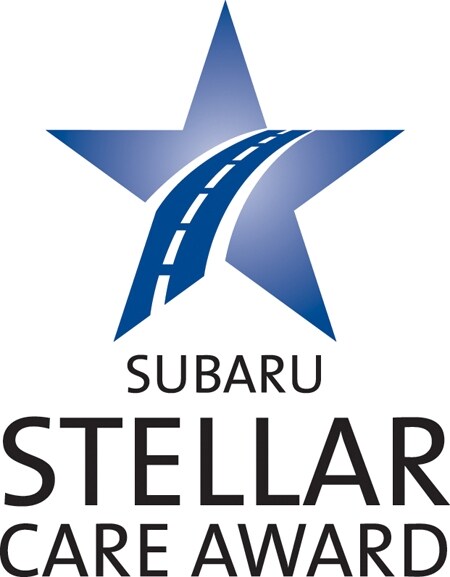 Grand Junction Subaru receives Subaru of America Stellar Care Award
for 2012, 2013, and 2014!
"The Subaru Stellar Care Award is given to top ranking Subaru dealers who deliver an exceptional ownership experience to our customers," said Bill Cyphers, senior vice president, sales for Subaru of America. "Award recipients meet the high Stellar Care benchmarks for customer Satisfaction, brand representation, and operational excellence. Our brand has enjoyed record sales for the past three years and this success is in large part due to the excellence of our retail body."
Developed by Subaru of America in cooperation with Subaru dealers, the Stellar Care program focuses on delivering an excellent ownership experience to Subaru customers. The program has as its focus that developing positive, long-term relationships with Subaru customers is a fundamental part of daily business for a Subaru retailer.
"All Subaru dealerships deliver a high quality experience to our customers," said Cyphers, but the Stellar Care Award winners excel in the way they take care of their customers and represent the Subaru brand."
The highly coveted award does not come easily and to be named as a Stellar Care recipient, Subaru dealers must dedicate significant time and resources to the customer experience throughout the year. Performance measures for the program range from participation in all customer-focused Subaru programs to maintaining a customer-friendly, inviting facility. Dealers must also achieve outstanding satisfaction scores for all key ares in Sales and Service.


To prevent any price discrepancies, please make sure you mention the pricing seen on the Internet. Or, Just call me on my personal cell phone at 818-917-8434. I will be more than happy to personally assist you.

Greg Montano           
Internet Sales Manager           

Be sure to browse the latest New Vehicle Specials for up-to-date promotions, or check out Grand Junction Subaru's Featured Vehicles, highlighting both new and used cars. Should we not currently stock your ideal vehicle, please complete the CarFinder form and Grand Junction Subaru will complete the search for you!